Mom's Happiness Dream AtticHelping children grow their dreams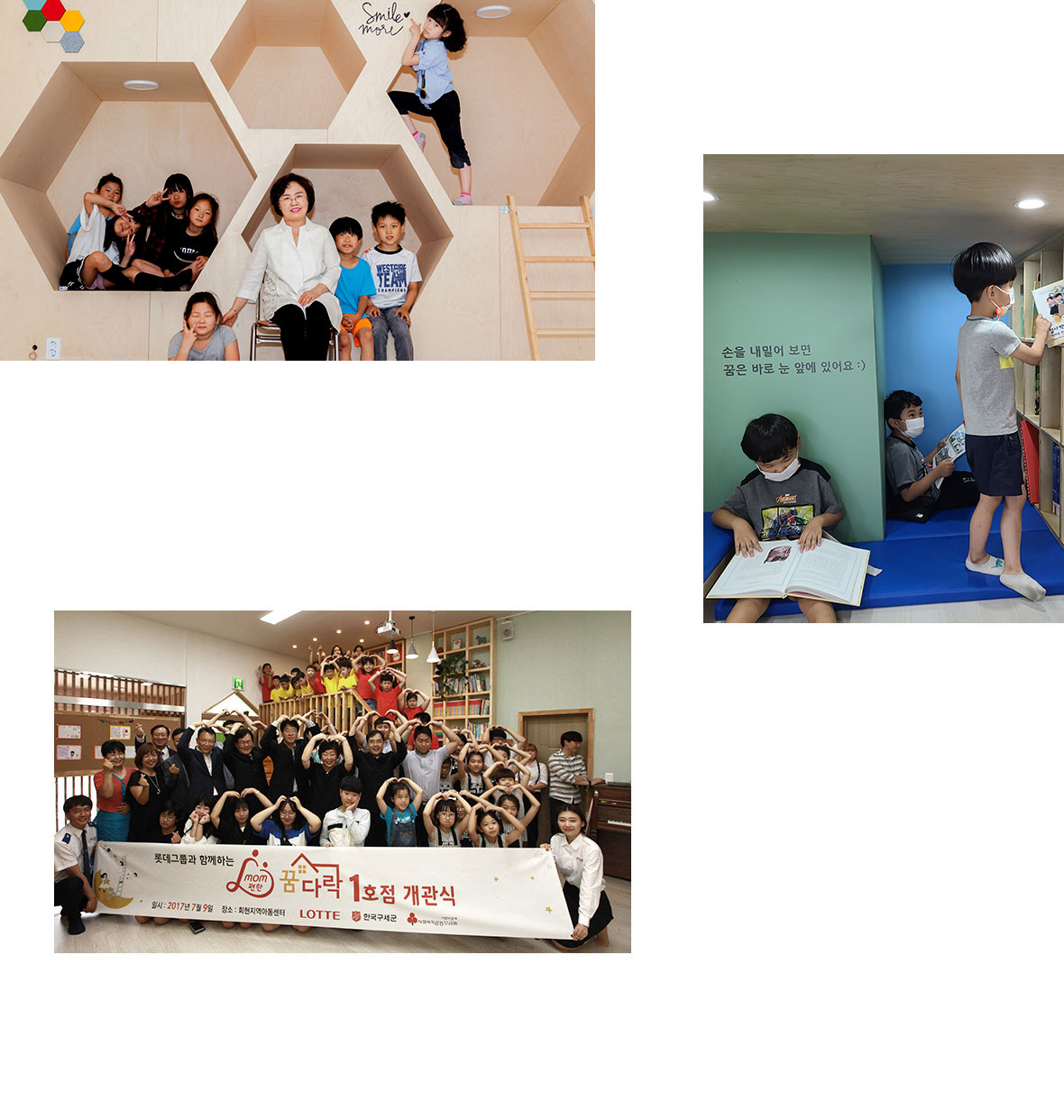 LOTTE has launched "Mom's Happiness Dream Attic" to
improve the environment in local after-school childcare centers.
This project transforms these centers into places where mothers
can leave their children without worry and children can develop
dreams and enjoy cultural benefits.

Starting with the opening of the first store in Hoehyeon-myeon, Gunsan in 2017, the company has established a total of 68 stores, and plans to open 12 additional stores by the end of the year to establish up to the 80th store.

Mom's Happiness Dream Attic is designed to resemble a secret loft,
so children can feel like they have their own secret place to play.
Many children end up spending many hours after school at childcare centers.
To make the centers more comfortable and exciting, Dream Attic also has Dream Attic Theater
and Digital Class Room facilities.
In addition, Lotte is continuously providing support with its Mentoring Programs and Dream Concerts to support the dreams of children of Mom's Happiness Dream Attic.
Mom's Happiness PlaygroundSecuring children's safety and happiness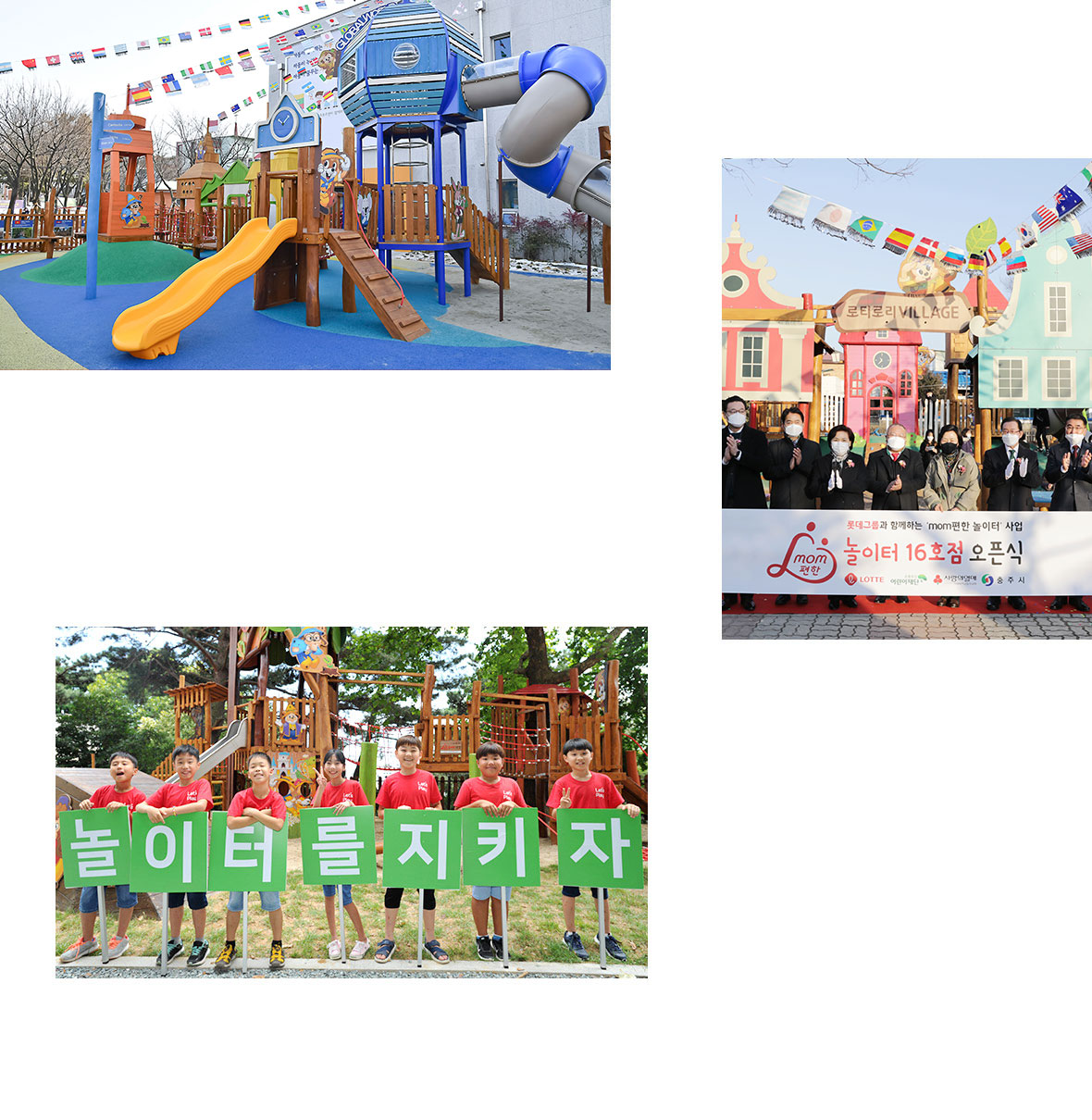 Today, social disparities can even be observed
in children's playgroundsTo contribute to relieving
such inequality,
LOTTE has started the "Mom's Happiness Playground" project,
which builds safe, eco-friendly child welfare centers and
safe playgrounds in poor urban areas and rural areas.

Starting with the first store in Dongnae-gu, Busan in 2017, we plan to establish 20 playgrounds by 2021.

For children's safety, Mom's Happiness Playgrounds use
only eco-friendly, natural materials and have surveillance
cameras and night lighting installed. The playgrounds also
provide creative playing facilities, as opposed to ordinary toys,
which blend in very well with the surrounding nature.
Mom's Happiness Affiliate CSV
Mom's Happiness Affiliate CSV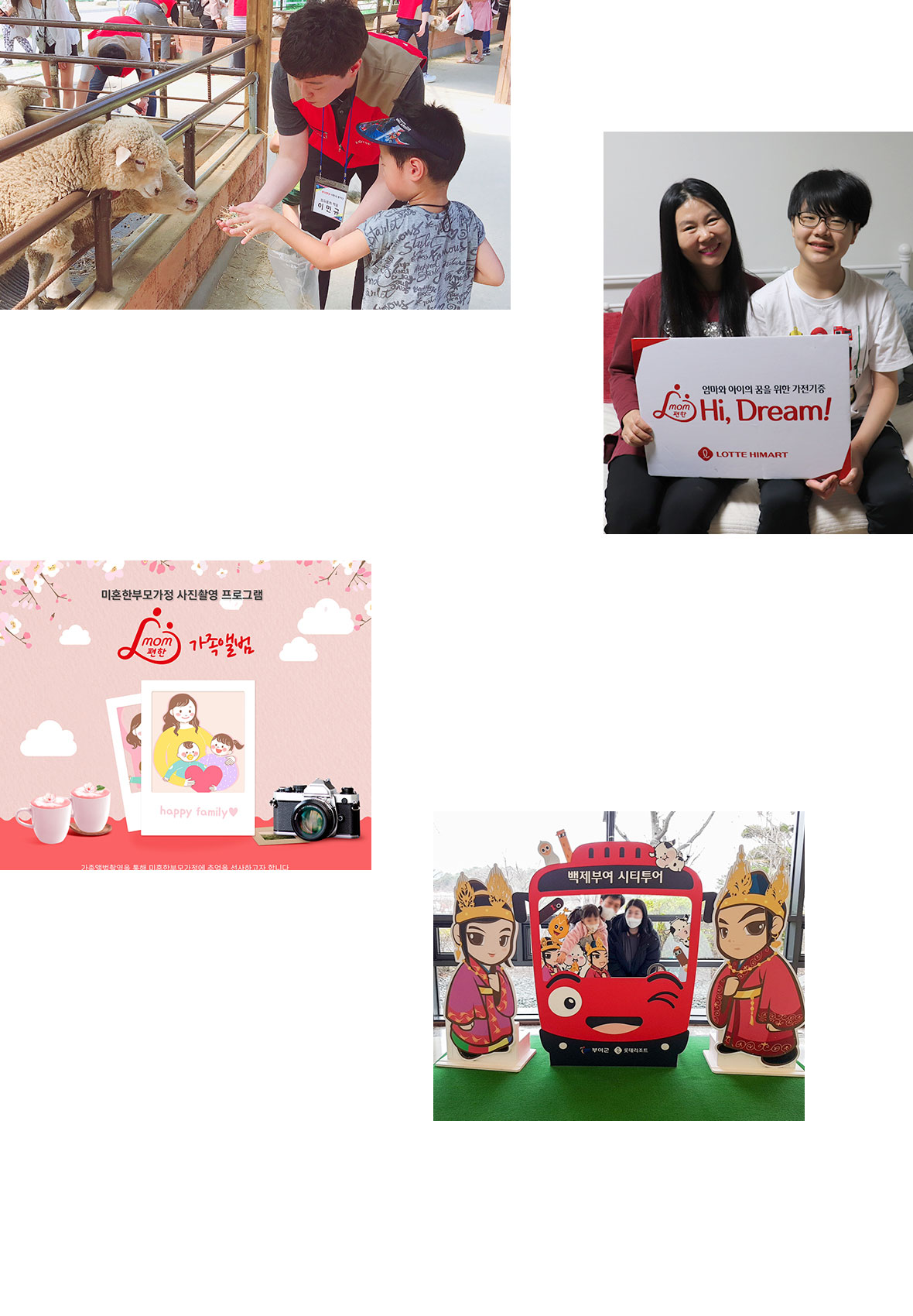 LOTTE Rental 'Mom's Happiness Companion' Domestic travel support for families of children with disabilities
LOTTE Rental has been a hot topic for families with disabilities who have
been unable to move since 2013.
I've been supporting family trips that can give special memories.
A wheelchair lift to travel to beautiful parts of the country.
I'm applying for a more comfortable trip by purchasing it.

LOTTE Hi-Mart 'Mom's Happiness Hi-Dream' Supporting home appliances to help mothers and children achieve their dreams
LOTTE Hi-Mart is conducting a business to support home appliances that were difficult to buy in reality by conducting a contest every other month about the dream of a mother and supporting the working mother.

Canon Korea 'Mom's Happiness Family Album' Single parent family album production
For single-parent families across the country who had fewer
opportunities to take family photos due to financial difficulties, Canon Korea Business Solution helps record happy moments with their children
by supporting the Holt Children's Welfare Association from studio photography to album and frame production.

LOTTE Fine Chemical 'Mom's Happiness Fine-Trip' A project to bring back memories of a family
Mom's Happiness Healing Time Fine-Trip works with related parties in the group such as Bobath Children's Hospital and LOTTE Resort to provide safe and pleasant travel packages to the sick family, enhancing the healing effect of the sick and presenting happy memories.
LOTTE Confectionery's Sweet HomeMaking children smile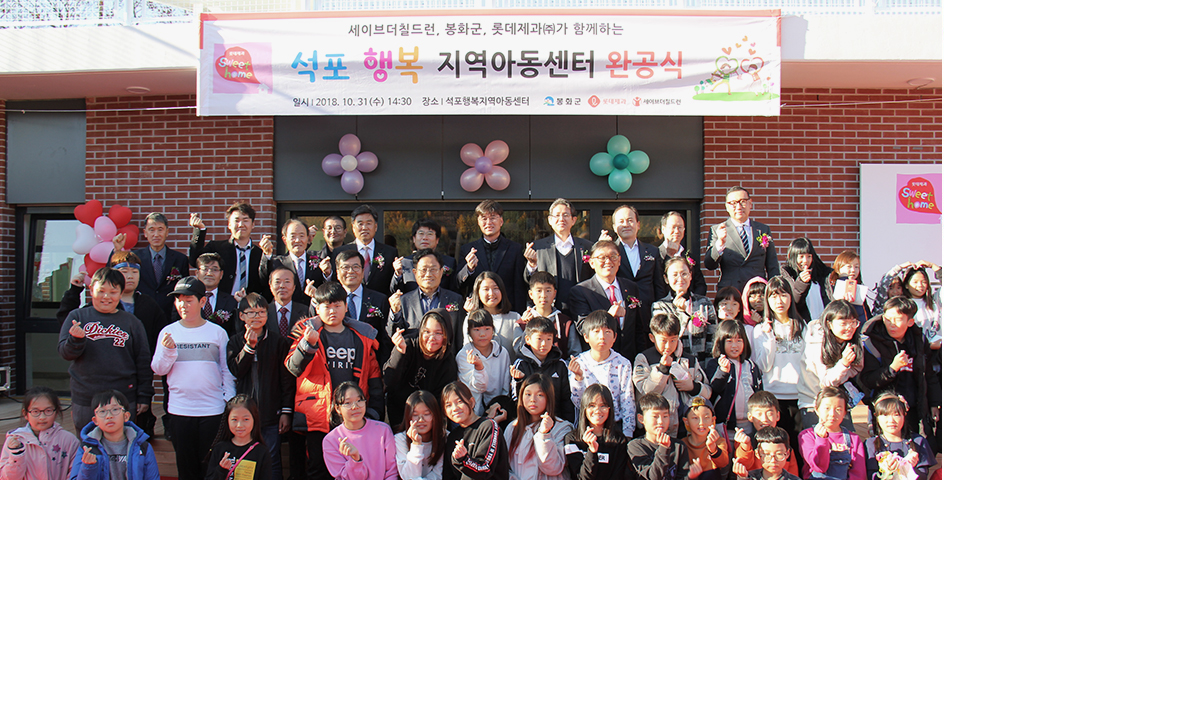 LOTTE Confectionery is building Sweet Home, a play and learning space for children in rural areas, with some of the proceeds from Peppero. Since 2013, we have been building one suite every year in cooperation with Save the Children.
We are also conducting Sweet Picnic activities to provide various cultural experience opportunities for children who use Sweet Home.
In September 2019, we toured LOTTE World Tower, LOTTE Aquarium, and Sweet Factory with the children of Bonghwa, Gyeongsangbuk-do. And in 2020, we presented the 7th store children with a letter from the CEO, considering the corona 19 distancing situation.
LOTTE World, Dream StageTalent donation for children's dream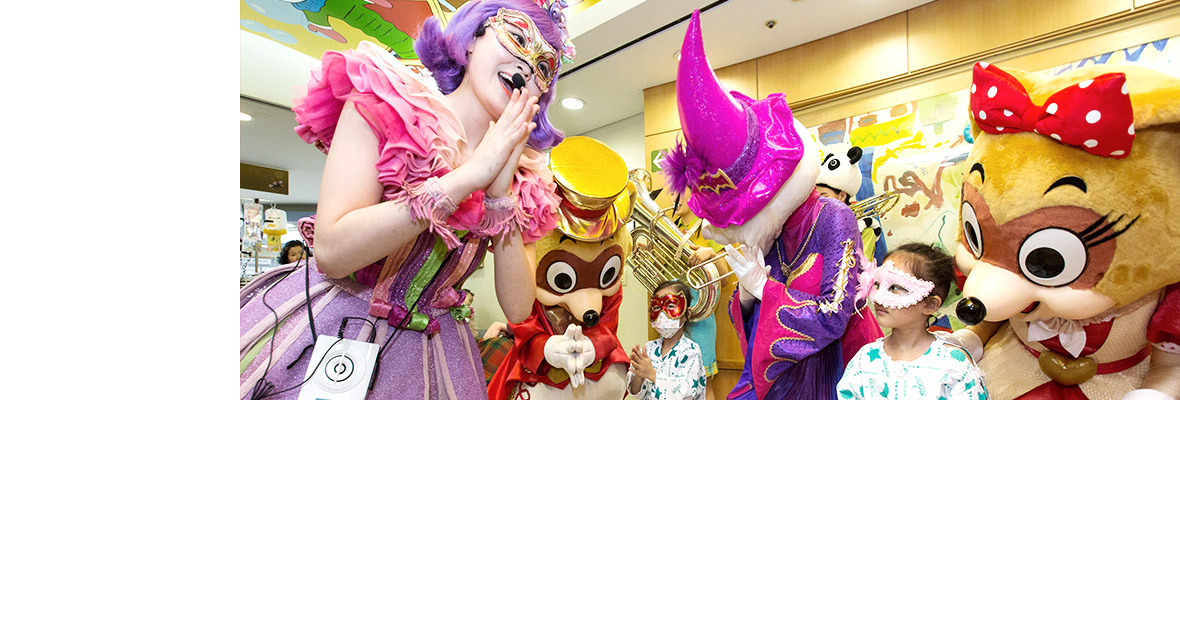 Dream Stage, a CSR (Corporate Social Responsibility) program to help
child cancer patients achieve their dreams by performing on stage in LOTTE World Adventure Only with "talent donations" from LOTTE World's Performance Team could Dream Stage become a reality.
They teach singing and dancing to children in need and then put on a performance together on stage. In December 2016,
nearly 40 child cancer patients performed in the Christmas Carol Concert.
In 2017, the team and participating children released a chorus and delivered a performance to raise public
awareness of cancer in children. In addition, LOTTE World has run the "Outreach Theme Park" program
since 1995, in which its Performance Team visits children's hospitals and performs shows.
LOTTE World promises to focus even more efforts on CSR activities.
LOTTE SHOPPING Rejoice Campaign
For you who shine, I support the happy life of the Rejoice woman. LOTTE SHOPPING has been carrying out various Rejoice campaign activities to support women's happy lives since 2017. Recently, along with singers Jukjae, Kwon Jin-ah, and Lee Jin-ah, they have been establishing themselves as a leading social contribution in the women's field by releasing a refreshing healing song "For You, Shining" that many people can sympathize with and comfort. In addition, psychological counseling and education programs that support emotional stability for vulnerable women are being operated for a long time, and psychological counseling spaces are continuously expanding to meet the eyes of the participants in a comfortable atmosphere.
LOTTE GRS Single Parent Support Project
I'm rooting for single parents' first step into society! LOTTE GRS provides a special main character for single parents who celebrate their first birthday with a customized first birthday party for each family. We also support the economic independence of single mothers through various activities such as online funding and flea markets, and we will also work hard to provide warm memories to single parents by conducting glamping and outing programs with executives and employees.