LOTTE's Corporate Culture
LOTTE's corporate culture seeks to create greater value by having all of its employees share their hearts and thoughts. LOTTE is creating a unique value creation culture that enhances social value thanks to win-win relationships among the company's various stakeholders, as we guarantee the happiness of our employees by pushing for respect of everyone's different lifestyles and build corporate value through innovation and the fusion of ideas.
LOTTE Culture System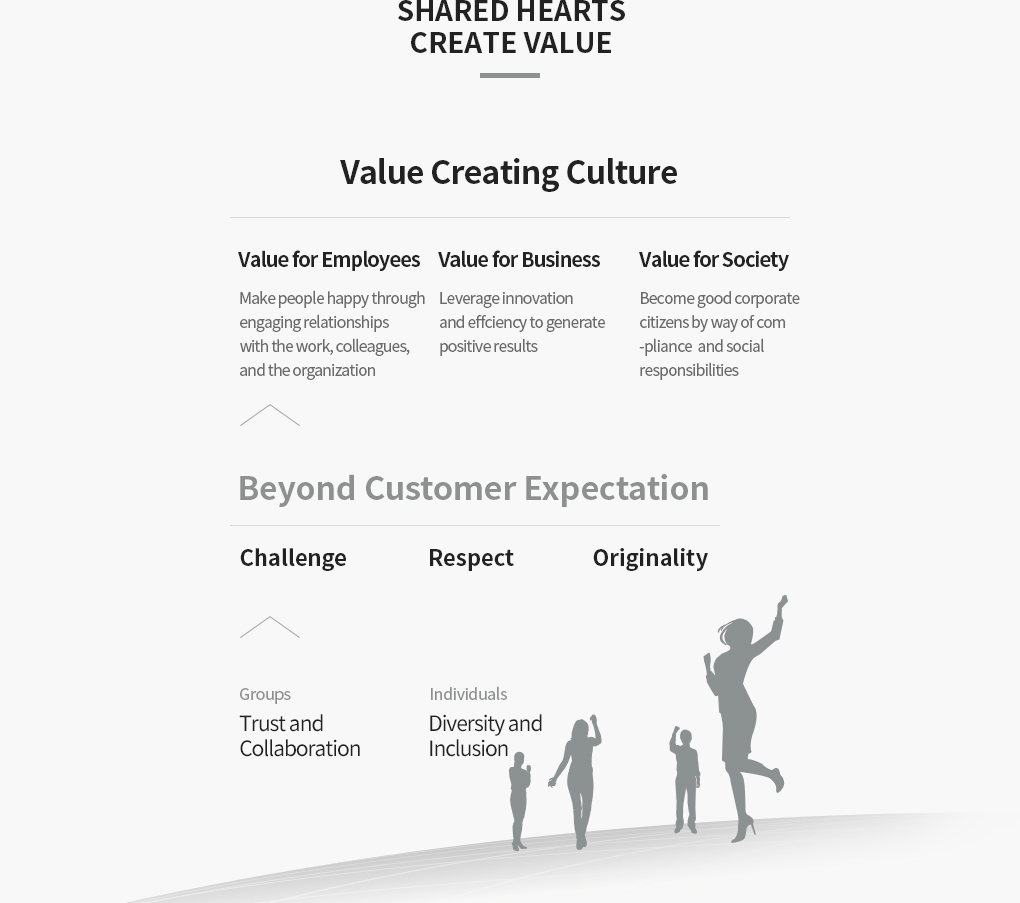 SHARED HEARTS CREATE VALUE It stands for the goal-orientation of our corporate culture that seeks to create a greater value through the sharing of perspective and passion together with the entire LOTTE member family!
The core keyword, Hearts, serves to accentuate that of warmth, love and consideration for the other.

LOTTE Corporate Culture's Roots
Personal Differences, Trust in and Cooperation with Corporations and Organizations LOTTE members who are capable of accepting and respecting personal differences can serve as "Lifetime Value Creators" by having faith in each other's competence and cooperating to achieve the best outcome.
Culture for Value Creation
At LOTTE, "Value Creation" refers to the creation of three values: Value for Business, Value for Employees, Value for Society.
Trust and cooperation between labor and management are essential for LOTTE to grow and increase its value.
As LOTTE's corporate value rises, so too do the benefits employees receive, such as more favorable employment conditions and
more beneficial welfare programs. Greater employee satisfaction leads to higher productivity, which in turn creates more jobs and
benefits the company, its partners, and society.
First, Value for Employees
LOTTE has adopted excellent employee benefit plans and established a work environment centered around the pursuit of
each employee's happiness through positive relationships with their work and their coworkers, thereby endowing
them with a sense of devotion and belonging within the company.
LOTTE Lifetime Welfare System To establish a more systematic and rational foundation for employee happiness,
LOTTE has launched the LOTTE Lifetime Welfare System, which provides different benefits for employees according to their age and current needs.

LOTTE Family Festival As many as 10,000 LOTTE employees participate in the annual LOTTE Family Festival, which serves to strengthen their pride in and loyalty to the company.
Second, Value for Business
LOTTE's workers and management uphold a shared belief that the company's growth results in growth among individual workers,
and vice versa. Both sides are committed to improving actual business performance through greater efficiency and innovation.
Corporate Culture TFT The Corporate Culture TFT, voluntarily operated by every LOTTE affiliate, is creating a field-based corporate culture.

In-House Venture Project The In-House Venture Project aims to promote a corporate culture that values creativity and challenges and encourages employees to strive for innovation.
Third, Value for Society
Under the belief that they should fulfill their social responsibilities for mutual growth with partners and communities,
both the workers and management at LOTTE Group actively participate in social contribution activities
that are closely related to each affiliate's core strengths.