About US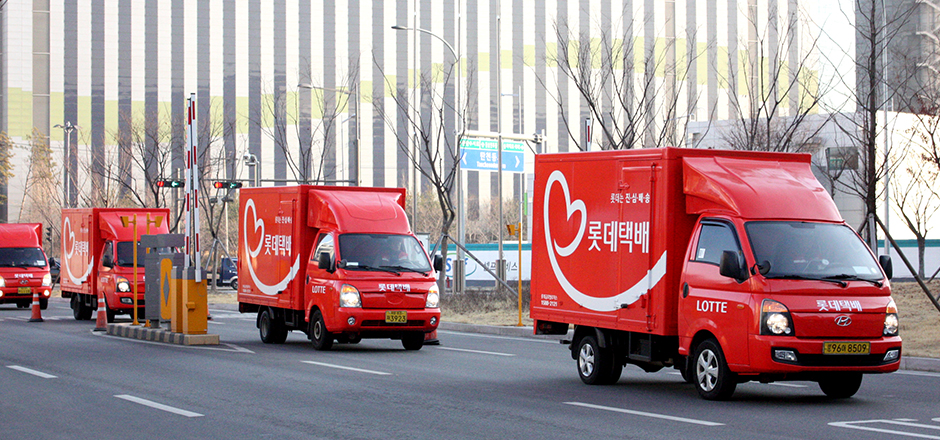 Logistics company providing advanced logistics services Since it was founded in 1996, LOTTE Global Logistics has contributed to the growth of the national logistics industry and become Korea's representative global logistics corporation. Backed by more than 1,000 Korean and 200 overseas logistics business networks and outstanding IT services, it offers logistics services in parcel, ground delivery, third-party logistics, port cargo loading and unloading, and customized international logistics needs.

In addition, through the establishment of its advanced logistics system, LOTTE Global Logistics provides enhanced logistics services for everything from international logistics services to logistics linking services.
CEO

Park Chan Bok

Date of foundation

1996.10.14

Major Business

Delivery, distribution/storage, shipping, forwarding, port operations, consultation

Address

10F-12F, Yonsei Severance Bldg., 10, Tongil-ro, Jung-gu, Seoul

Phone

(+82)-2-2170-3355
Major products and services

Parcel services

Lotte Express is a delivery brand under Lotte Global Logistics Co., Ltd., a company that has forged the path of the Korean delivery industry, and as such, currently has a total of 15 hub terminals, 39 branches, and as many as 1,000 dealers across the country, all operating within the largest domestic infrastructure.

Distribution/Storage Services

High-temperature, low-temperature, and frozen storage services are available for safe customer product storage, as well as storage services with maximized operation capacity ensured by a specialized staff.

Shipping Services

The offering of shipping services through an optimized shipping mode, including bulk shipping services using special vehicles and equipment, goods transportation proxy services operating large vehicles for the transporting of goods between various logistics hubs, and customer shipping proxy services utilizing small vehicles.

Port Operations Services

With modern cargo handling equipment and an array of heavy equipment, Lotte Global Logistics conducts a variety of operations at the Pusan Newport International Terminal, a new and upcoming global container hub terminal, that includes the handling of various cargo, such as containers, steel products, and heavy goods, in addition to shipping and storage.

Consultation Services

The offering of optimized consultation services, including that which pertains to the promotion of operations efficiency, optimization, cost reduction, and other facets, through logistics diagnostics and process improvement.