About US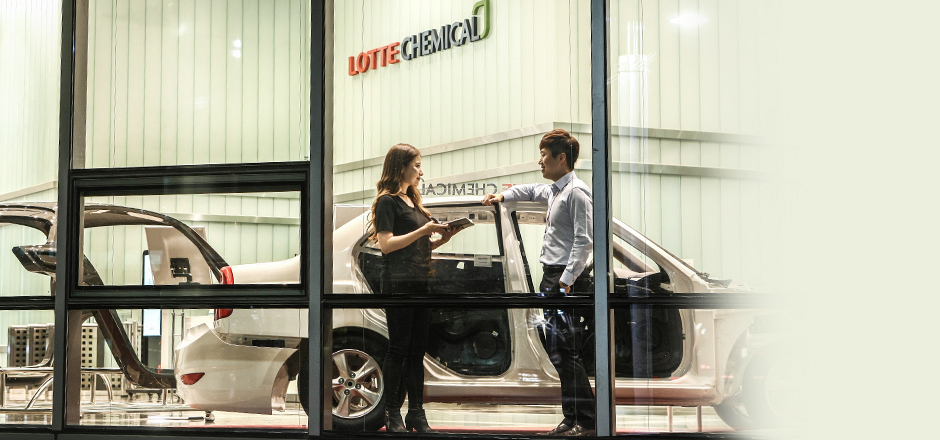 A global chemical company creating a better future Founded in 1976, LOTTE Chemical is a major Korean chemical company that has global-scale production facilities in three major petrochemical centers in Korea: Yeosu, Daesan and Ulsan.
LOTTE Chemical has created a stable and profitable business portfolio through continuous business and plant expansions, and established international branches in various countries, including the US, China,
Japan, Hong Kong, Russia, Germany, Peru and Turkey, to export its excellent products to over 120 countries worldwide.
LOTTE Chemical has a diverse product portfolio such as synthetic resins and other chemical products as well as for megatrend products used for architecture and interior design. As such, its products are used for internals/externals of home appliances and IT devices, and even widely applied to agricultural, industrial and construction materials as well as medical devices and automobiles.
LOTTE Chemical boasts excellent R&D capabilities and expertise, and is doing its best to become a "Global Top 7 Chemical Company" with its competitive products.
CEO

Kim Gyo-hyun

Date of foundation

1976.3.16

Major Business

Petrochemical business

Address

LOTTE World Tower, 300, Olympic-ro, Songpa-gu, Seoul

Phone

(+82)-2-829-4114
Major products and services

Synthetic resin

∙ HDPE(High Density Polyethylene)
∙ LLDPE(Linear Low Density Polyethylene)
∙ LDPE(Low Density Polyethylene)
∙ EVA(Ethylene Vinyl Acetate Copolymer)
∙ PP(Polypropylene)
∙ PET(Polyethylene Terephthalate)

Chemical products

∙ EO(Ethylene Oxide)
∙ EG(Ethylene Glycol)
∙ EOA(Ethylene Oxide Adduct)
∙ GE(Glycol Ether)
∙ MMA(Methyl Methacrylate)
∙ PIA(Purified Isophthalic Acid)
∙ PTA(Purified Terephthalic Acid)

Basic oil products, mega trend products

· BZ(Benzene)
· TL(Toluene)
· MX(Mixed Xylene)
· MeX/PX/OX(Meta/Para/Ortho-Xylene)
· IPM(Isoprene Monomer)
· DCPD(Dicyclopentadiene)
· PIP(Piperylene)
∙ BD(Butadiene)
∙ SM(Styrene Monomer)

Architecture / interior materials

∙ Staron® (Solid Surfaces)
∙ Quartz Surfaces Radianz®
∙ Sintered Stone Locelain®

Water treatment products

∙ UF Membrane for water treatment
Network
Find out more about networks around the world
네트워크 위치

| ITEMS | ADDRESS | PHONE |
| --- | --- | --- |
| Seoul Office | 300 Olympic Road, Songpa-gu, Seoul, Lotte World Tower 14-16F | 02-829-4114 |
| Uiwang Office | Gosan-ro 56 in Uiwang-si, Gyeonggi-do | 031-596-3114 |
| Yeosu Factory (Basic materials) | 53 Lotte Chemical Yeosu 1 Factory in Yeosu, Jeollanam-do | 061-688-2114 |
| Yeosu Factory (advanced material) | Yeosu-si, Jeollanam-do 334-27 Yeosu-Dan-ro | 061-689-1221 |
| Daesan Factory | 82, Dokgot 1-ro, Daesan-eup, Seosan-si, Chungcheongnam-do | 041-689-5114 |
| Ulsan Factory | 119 Lotte Chemical Ulsan 1 Factory in Sapyeong-ro, Nam-gu, Ulsan Metropolitan City | 052-278-3400 |
| Daejeon Laboratory | 115 Lotte Chemical Research Institute in Gajibuk-ro, Yuseong-gu, Daejeon | 042-879-1261 |